Musa Saba originally comes from the Philippines where it is commonly cooked and eaten as a staple. The plant is very large and sturdy; perhaps one of the largest bananas we've ever seen (note John standing next to one in the photos). It can grow up to 25 feet and is very tolerant to cold and resistant to wind. The trunk can be as thick as 18 inches.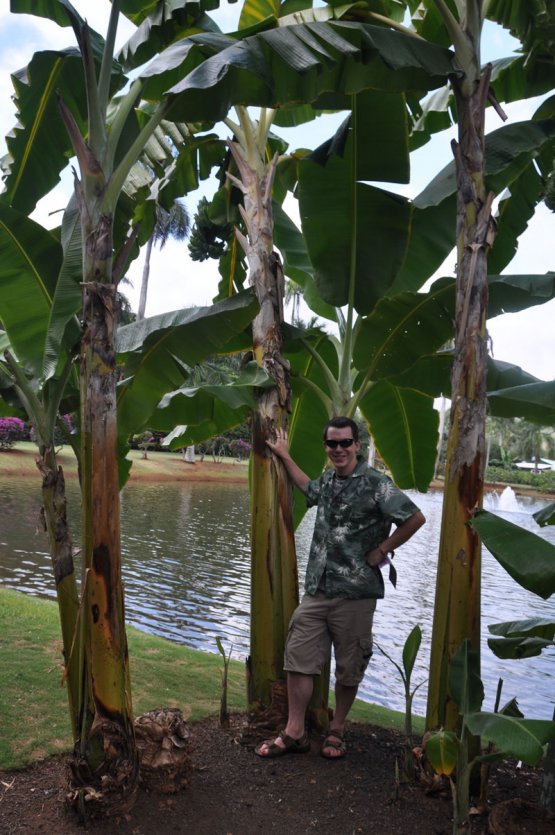 Musa Saba will likely only reach it's full height in tropical locations. In our zone (8a) we've attempted to protect the pseudo-stem, but to date have not been able to protect it sufficiently over winter. The banana always dies back to the ground and returns in the Spring. It's a fairly fast grower and can reach 6-8' before winter.
Additional Classification Data
Family: Musaceae
Genus: Musa
Species: None Identified
Cultivar: Saba
Hardiness Zones
USDA Zone 8a: to 10 °F
USDA Zone 8b: to 15 °F
USDA Zone 9a: to 20 °F
USDA Zone 9b: to 25 °F
Plant Height
Height 15-20 ft.
Height 20-30 ft.
Light Exposure
Light - Full Sun
Light - 10% to 40% Shade
Growth Rate
Rate - Fast
Rate - Very Fast